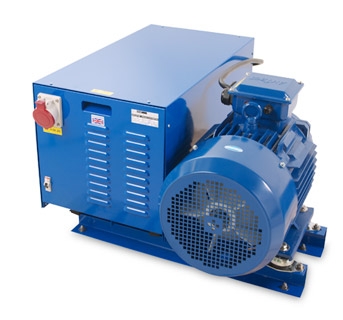 These larger sized Booster™ rotary single phase to three phase converters are probably the most advanced units available from a UK manufacturer and feature everything a small workshop could want:
•Compact dimensions
•No user controls
•Fits under a workbench
•Both a three phase socket and three phase cable outlet as standard items
•One box design with external motor on anti-vibration mounts
•Continuous use rating with no minimum load requirements
•Shipping £85 UK normal zones.
•Shipping £150 Scottish Highlands/Islands. Eire, Channel Islands and N.I.
£2,380.00 (ex. VAT)
---
These larger Boosters are probably the best rotary phase converters in the world.
They feature symmetric neutrals as a standard, offer 600% x 10 second overload capability, are rated for continuous use, and are ready to go 'out of the box' .
The motor is mounted on antivibration mounts which makes these units run quietly. An easily accessible switch/fuse is on the front, next to the 415V x 5 pin socket and there are no other user controls.
On the back is the 220/240V inlet and a cable gland and terminal block so you can hard wire a 415V outlet to a 3 phase distribution board. They feature electrically noiseless sealed solid state electronic switching so swarf or debris cannot affect the converter, and so the converter will not create electrical interference.
They will run high speed 4250 rpm CNC machinery and just about anything else within their power rating.

| | |
| --- | --- |
| Installed Weight | 215 kg |
| Shipping Weight | 230 kg |
| Installed Width | 800 mm |
| Installed Depth | 780 mm |
| Installed Height | 520 mm |
| Maximum multi motor load | 16 kW 21.46hp |
| Maximum single motor load | 16 kW 21.46hp |
| Minimum motor load | 0 kW |
| Input Fuse / MCB | 100 A |
| Input Cable | 16 mm sq. |
| Input Voltage AC | taps for 220 & 240 V AC are provided |
| Output Voltage AC | taps for 380 & 415 V AC phase to phase are provided |
| Nominal Maximum Working Current Input | 85 A |
| Nominal Maximum Working Current Output | 28.8A per phase at 0.8 power factor |
| Frequency | 50/60 Hz |
| Maximum Working Power Output | 16000 W |
| 3-phase Output connector | 5 pin (L1, L2, L3, N, PE) |
| Guarantee Period | 3 years |
| NB : Single phase (230V) loads only use phase L3 to neutral | |
WARNING - If your required application is listed in red in the table below, special considerations must be made. Please click on the link to find out more.
Proven Applications
AGRICULTURE

Pumps / Compressors
Corn dryers / Submersible pumps
Fans / conveyors
Hoists / Wine press
Grain mill / Olive oil processor
Slurry systems
Refrigeration units

METAL WORKING

Power hacksaws
Grinders / Drills
Lathes / Milling machines
Guillotine
MIG and TIG welders
Polishers
Presses

WOOD WORKING

Saws / Sanders
Spindle moulder
Edge benders / Dust extractor
Planner thicknesser
Copy lathe / Fans
Milling machines
Mortisser / Router

GARAGES

Car lifts
Wheel balancers
Brake testers
Hoists / Cranes
Spray booths
Compressors

CATERING

Mincers / Saws
Ice cream machine
Potato peelers / Dough mixers
Conveyers / Ovens
Packaging and shredding
Vacuum packers
Air conditioning & refrigeration

PRINTING

Printing machine
Folding machine
Stitching machine
Paper drills
Guillotines
We also supply phase converters for passenger lifts and ground source heat pumps but for these applications it is essential to obtain a full specification from the supplier, particularly the total electrical power requirement in kW at full load.
It is very important that you consider cable sizing as part of your purchase, the table below shows you what size cable you should use for your 240V and 3-phase cable runs for this Booster.

Cable A
MDB > Three Phase Converter
| Cable Diameter (mm2) | Maximum Length (m) |
| --- | --- |
| 1.5 | 2 |
| 2.5 | 3 |
| 4 | 5 |
| 6 | 8 |
| 10 | 14 |
| 16 | 22 |
| 25 | 34 |
Cable B
Three Phase Converter > Machinery
| Cable Diameter (mm2) | Maximum Length (m) |
| --- | --- |
| 1.5 | 5 |
| 2.5 | 9 |
| 4 | 14 |
| 6 | 21 |
| 10 | 35 |
| 16 | 56 |
| 25 | 88 |